The Greatness Of The Magnificence#2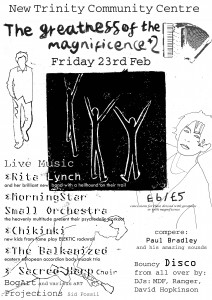 Fri 23rd February 8pm at The New Trinity Community Centre, Old Market, Bristol. £5/6 (further door reductions for those who dress with greatness or with magnificence)
A night of rock'n'roll, easy-listening noir, cabaret poetry orchestras and choirs, dance, installation art, and projections, with a disco to finish.
THE MUSIC
1. The Balkanized :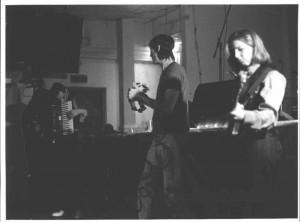 Eastern European accordion and bass trio set the flavour of the evening.
2. Chikinki :
…and then the flavour has a massive rush of adrenaline when these fine rock'n'roll Electro-groove merchants take the spectral stage. Chikinki's performance is part of their UK your which comes with the release of their LP 'Experiment With Mother' (released on Sink and Stove records).
3. MorningStar Small Orchestra:
The heavenly multitude present a psychedelic set from the sublime to the craven. This is the year MorningStar's long awaited second LP (with Paris label Microbe records) will be released, probably April (and the next Greatness of the Magnificence)
4. Rita Lynch :
And her shiny new band with a hellhound on their trail play their first concert, having spent a week in the studio working on Rita's next LP. This gig also celebrates the release of a CD collection of Rita Lynch live and previously unreleased songs on the Colours and Sounds label which will be available.
COMPERE: the great Paul Bradley and his amazing sounds introducing the acts and being one.(an event highlight was Paul ranting about how he used to be in the band before introducing Rita Lynch)

BogArt will be providing Spontaneous Art Spaces.
PROJECTIONS: via Sid Fossil
DJs: MDF, Ranger and David Hopkinson on the wheels for the dancing.
ADDITIONAL MUSIC: from The Sacred Harp choir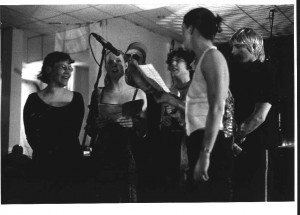 Balkanized
A Sacred Harp Choir