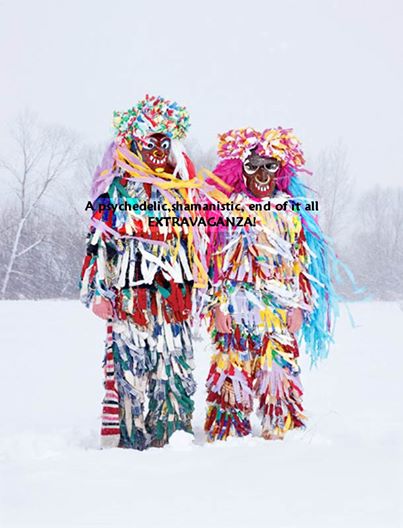 NYE 8pm – very late. £10, limited to 100 ADVANCE TICKETS ONLY – get them quick!
NOTE: All attendees MUST be costumed. (There will be a Cube costume making workshop in the run up… )
Available now : http://www.bristolticketshop.co.uk/eventdetails.aspx?e=4377
A psychedelic,shamanistic, end of it all EXTRAVAGANZA celebrating / commiserating the year The Cube set out to secure itself! See the running total/contribute here:http://www.cubecinema.com/freehold
This final fund & roof raiser will feature Jesse Morningstar's FANTASY ORCHESTRA fresh from wowing us all at the Don't Look Now event at Bristol Old Vic exploring the psychedelic from Hendrix and outward to spin your through our special equinox ..
Also playing live will be REPOMAN with their ace noise rock/post-punk/pysch stylings and the off kilter synth and drums duo Y CVn.There'll also be a special set of improvised cosmic synth madness later in the bar from VOSTOK
Cube Disc Jockees will be spinning all kinds of tribal,psychedelic and ritualised body music and there will be mind spinning video visuals from Mr Hopkinson too.
The theme is inspired by the WILDER MANN photographs of Charles Fréger : see here:
http://www.charlesfreger.com/works/index.php?UserSerie=Wilder+Mann
Shamanic full body costumes that occur in different forms in all cultures.
Tickets will be STRICTLY limited to 100, and there will be NO admittance without a costume!
There will be a Cube costume making workshop in the run up…
Respond how every you want in discovering your spirit character – it could be like Vic & Bob's 'Man With The Stick' or the Mighty Boosh's 'Old Gregg' as much as 'The Burryman' or 'Pelzmärtle' . . . allow them to emerge for the moment.
So get prepared, and you can Join in for the very special microplex equinox – a microplexinox if you like – the final countdown for the success or failure of the freehold project to secure the building for the arts forever . . . plus the arrival of 2014!
https://soundcloud.com/repo-man