Christmas of the Greatness of the Magnificence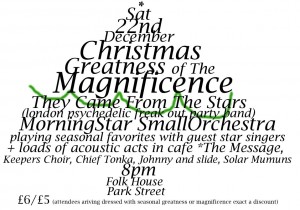 22nd December 2001
@ Bristol Folk House, Park Street,  Bristol
£6/£5 (Cheaper If You Dress With Seasonal Greatness and Magnificence)
MORNINGSTAR SMALL ORCHESTRA
"indulge in this sensual heavenly music… a totally decadent experience." – Guardian
Fresh from their recent tour, the Morning Star Small Orchestra which comprises a violin quartet, flute, accordion, flugelhorn, clarinet, saxophone, backing singers as well us the usual line-up of double bass, drums and guitar, will be performing well loved Christmas favorites (featuring V.I.P. Guest Vocalists) as well as songs from their recent album "My Place in the Dust".
LONDON TOY ORCHESTRA
"like music remembered from a ZX Spectrum game soundtrack" – BBC Online
The Toy Orchestra return to G.O.T.M. to perform a very special kind of Nativity Play.
THEY CAME FROM THE STARS (I SAW THEM)
"indescribable" – Freaky Trigger
After their recent  nose-bleed inducing performance at the London Greatness, TCFTS(IST) return to Bristol to perform   dirty astro-stomp pieces like "Beer of The Gods"
Plus…
* Loads of Acoustic Acts in Café
* Video Art/Projections/Slideshows
* Poetry, Dancing and Other Bohemian Stuff Like That
Christmas Concert
>
> Café
> 8.30 Jude and Adam
> 9.00 Solar Mumuns
> 9.30 Keepers choir
> 10.00 Chief Tonka
> 10.30 Patrick Duff
> 11.00 Johnny & Slide
> 11.30 Andy (The Message)
>
>
>
>
>
> Hall
> 10.00 London Toy Orchestra
> 11.00 carollettes (Gabriels Message, Mozart,)
> 11.10 They Came From The Stars
> 12.00 MorningStar SmallOrchestra
>
>
> Keepers Set List
>
> river is flowing
> many rivers to cross (with jim and Brendan)
> masters of war (with trompete, adam, jim and Brendan)
> green leaves of summer (with jim and Brendan)
> spanish eyes (with jim, trompete, poshpete, adam, boris, Trevor, brendan,
> becky and ben)
> cuckoo (with jim, trompete, poshpete, adam, boris, Trevor, brendan, becky
> and ben)
>
>
> MorningStar Set List
> 1) I heard Beauty (with b singers))
> 2) Shake It Together (with b singers)
> 3) Little Donkey (calypso)– Duncan Inseminator (with carollettes)
> 4) Little drummer boy – Tammy (errol on drums)
> 5) Silent Night(calypso) – Rob Madnomad (with carollettes)
> 6) Bleak Mid-Winter – Patrick (with carollettes)
> 7) Inbetween times (with b singers)
> 8) Too Soon (with b singers and carolletes)
> 9) White Christmas Patrick (with carollettes)
> 10) Away In A Manger (dub)– Rob Madnomad (with carollettes)
> 11) Wonderful Christmas time
> 12) One Love
>
>