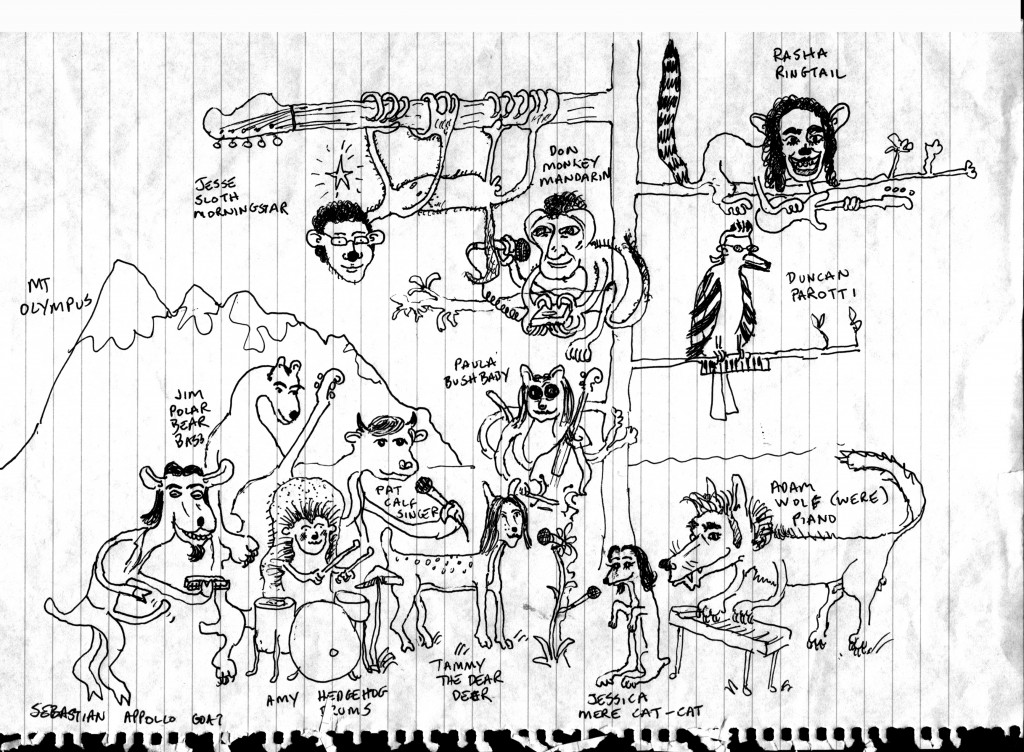 In association with friends of Maria Tzardi from Athens, we organised a short trip to Greece for: Jukes, MorningStar, Patrick Duff, Mooz, Don Mandarin, War Against Sleep, Plug and the Invisible Pair Of Hands.
8 bands consising of 12 people (illustrated above by Jim) who were: Rasha Shaheen, Amy Jarlett, Tammy Payne, Paula James, Jessica Marlowe, Jim Barr, Duncun flemming, Rich Beale, Jesse Vernon, Patrick Duff, Adam Coombs and Sebastien Carbonelle (who came from belgium).
The three nights we staying in Athens were all together in a bed and breakfast. very nice!
Duncan later edited a short video of the trip
The shows were mostly in The Small Music Theatre in Athens which we played three consecutive nights. Then we got the train to Salonika.
here's some video:

1000 Dreamers – Jukes from Small Music Theatre, Athens. from .
Keepers Of The Fire – Morning Star from Salonika Club Ydrogeios, The Greekness Of The Magnificence on Vimeo.
Fucked – Patrick Duff from The Greekness Of The Magnificence, Salonika Club Ydrogeios on Vimeo.
Greekness Running Order
| | | | | | |
| --- | --- | --- | --- | --- | --- |
| Small Music Theatre Athens | Friday 6th | | Saturday 7th | | Sunday 8th |
| | | 8.30 – 9 | Plug | | |
| 9.40 – 10.20 | War Against Sleep | 9.15 – 9.45 | Tabernacle | 9 – 9.30 | Jukes short set |
| 10.30 – 11 | Morningstar solo set | 10 – 10.30 | Don Mandarin | 9.45 – 10.45 | Patrick Duff band |
| 11.15 – 11.45 | Don mandarin | 10.45 – 11.45 | Jukes | 11 – 12 | Invisible Hands |
| 12 – 1 | Mooz | 12 – 1 | MorningStar | | |
| | | | | | |
| | |
| --- | --- |
| Salonika Club Ydrogeios | Tuesday 10th |
| | |
| 5.30 – 6 | Tabernacle |
| 6.10 – 6.30 | Morningstar solo set |
| 6.40 – 7.10 | War Against Sleep |
| 7.20 – 7.50 | Don mandarin |
| 8.10 – 8.50 | Jukes |
| 9.05 – 9.45 | Mooz |
| 10 – 10.45 | MorningStar |
| 11 – 11.45 | Patrick Duff |
| 12 – 12.45 | Invisible Hands |
| | |
| | |